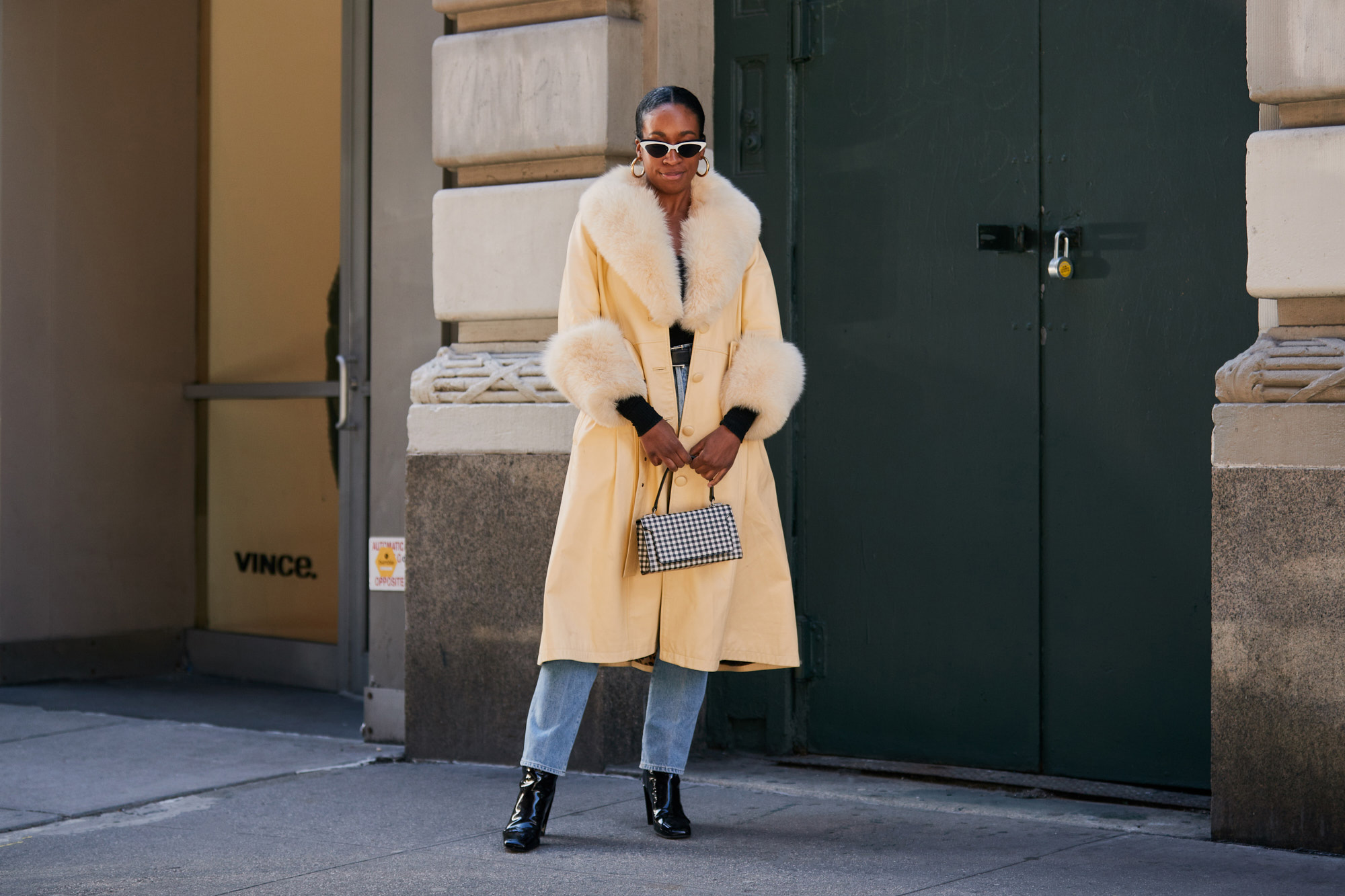 If you want to know how to style mom jeans to make them look fashionable, then follow these fashion tips and outfit ideas.
How To Style Mom Jean
Mom jeans can be worn in various ways. Wear blue mom jeans with a crop top and cropped blazer for a casual chic look. Alternatively, pairing your mom jeans with a graphic tee and leather jacket can be a cool and edgy way to style your mom jeans. The key to making mom jeans look fashionable is to make sure they fit well. They should sit at the natural waist and avoid mom jeans that are too tight or too loose, as they will not look as stylish. This style of jeans makes them super versatile to wear for all sorts of occasions and can be worn in many different ways depending on your personal style. But what are the different ways you can wear mom jeans? Let's take a look at different ways to style mom jeans.
What Are Mom Jeans?
Before we get into the different ways to style mom jeans, we first but know what they are. Mom jeans are a style of high-waisted, straight-legged denim jeans that became popular in the 1980s and 1990s. Unlike skinny jeans or boyfriend jeans, Mom jeans are characterized by a relaxed fit through the hips and thighs and a slightly tapered leg that hits just above the ankle to create a slim fit. Mom jeans were popular among women, especially mothers, and were often worn with a button-up shirt or sweater. In recent years, mom jeans have seen a resurgence in popularity as a vintage-inspired fashion trend, with many designers and retailers offering updated versions of the classic style.
Mom Jeans Outfit Ideas:
1.) Jeans and a nice top
Statement Top
photo: @marisolworks
One of the best ways to wear mom jeans is to pair them with a trendy top. Adding a trendy or statement top is a prime example of how you can add more interest to your outfit. Opt for a statement blouse in a neutral color or a bright color, preferably with interesting details like ruffles or puffed sleeves. Tuck it into the high-waisted mom jeans to accentuate your waist and create a sleek silhouette
Bodysuit
photo: @brittney_cherelle
Mom jeans have a high waist so pairing them with a bodysuit can add a sleek and modern look. This style of top might be more simple but you can dress the mom jean outfit up more with accessories. Pair with pointed toe heels and a baguette bag to add a level of elegance to the outfit. Throw over a blazer and you have the perfect chic outfit. Remember, when styling mom jeans, it's all about balance so dress up the outfit with more formal items.
Pop of Color
Another way to style mom jeans is to wear a nice top that adds a pop of colour to the outfit. Blue denim is quite a neutral tone and pairs well with many different colors. Adding a color can add some liveness to the outfit and a great way to make a statement.
2.) The casual look
Plain White Tee
photo: @ravenandzella
For those casual days where you don't want to think too much about your outfit, you can't go wrong with a classic white tee. To style mom jeans for a casual look, tuck a simple white tee into your mom jeans and wear a statement necklace. You can experiment with different styles of t shirts from ones with shoulder pads, crop tops to v necks. It might seem like a simple outfit, however you can style it to look chic.
Keep it causal with stylish sandals and a chic handbag.
Graphic Tee
Photo: @vintagewillows
Another option is to style mom jeans is with a graphic tee, this will add a fun and casual vibe. Choose a T-shirt with bold graphics, such as band logos, pop culture references, or fun illustrations. You can finish the look with comfortable shoes like sneakers or loafers.
Chunky Knit Sweater
Photo: @valenlacasa
You can also pair them with a chunky knit sweater or sweater vest, which will add a cosy and chic look look to mom jeans. Choose a chunky knit in a neutral colour such as beige, white, or grey, and pair it with a statement belt or necklace. The jeans' high waist and tapered leg contrast nicely with the sweater's volume, creating an effortless look that screams "I just threw this on."
3.) A smarter style mom jean
Silk Blouse
Photo: @celebsofworld
The key to making mom jeans look smart is to balance the casualness of the jeans with more polished and sophisticated elements. Avoid overly casual tops or shoes that would make the outfit look too relaxed. Make sure that the outfit is well-tailored and that you look put together and professional. A feminine blouse can add a romantic touch to mom jeans. Opt for a lightweight fabric in a pastel colour for a spring/summer look.
Button Up Shirt
Photo: @glamcityz
A tucked-in button-up shirt can add a polished and professional look to mom jeans. Choose a shirt in a neutral colour such as white, blue or black and tuck it in to define your waistline.
Button up shirts are often associated with more formal wear or business attire. Therefore, they are a great clothing item to style mom jeans with if you are wanting to dress your jeans up. The structured shirt contrast well to the relaxed fit of the jeans to create a sophisticated and classy outfit.
Oversized Blazer
Photo: @stealthelook
By adding an oversized blazer or tailored jacket can instantly elevate your mom jeans and turn a more casual fit into a smart chic look.
If you want to style mom jeans for those dress down Friday's in the office, then this is a great way to still keep it sophisticated.
4.) Statement jackets
Denim Jacket
Photo: @ShelbyConnorss
Another way of styling mom jeans is to add a statement jacket or coat. A denim jacket can add a casual and effortless vibe to mom jeans. Choose a vintage-inspired denim jacket in a light blue wash for a relaxed look, or opt for a darker wash for a more dressed-up feel.
The denim on denim look is very fashion forward and easy to recreate. Simply grab your favourite pair of mom jeans (these can be any color), wear with a basic tee and pair with a denim jacket. You can experiment with your style here by choosing different colored denim or even different cuts. For example, a cropped denim jacket can look really cool when paired with a crop top and mom jeans. The cropped jacket is really flattering especially when wearing high waisted pants like mom jeans.
Leather Jacket
Photo: @guitamoda
To add a bit of edge to your mom jeans, wear a leather jacket. Choose a classic biker jacket in black or brown for a timeless look, or opt for a more contemporary style with zippers and studs.
Trench Coat
Photo: @itisbeaute
A trench coat can add a sophisticated and polished vibe to mom jeans. Choose a classic beige trench in a lightweight fabric for a spring/summer look, or opt for a heavier fabric in a neutral colour like navy or black for a fall/winter look.
Colorful Blazer
Photo: @guitamoda
An oversize blazer can add a modern silhouette to mom jeans, especially when worn over a crop top. Alternatively, a trendy blazer in a bold colour or print is a fun way to create a statement piece.
5.) Footwear and mom jeans
Chunky Sneakers
Photo: @guitamoda
You can wear mom jeans with a variety of different shoes. For a casual look, wear mom jeans with chunky sneakers or loafers. If you don't have these in your closet, opt for a pair of white sneakers.
Photo: @ggiuu1
For a more dressed-up look, try wearing mom jeans with heels or ankle boots. A great option is to cuff the jeans to have ankle showing to show off the shoes.
Ankle Boots
Wearing ankle boots with your mom jeans can a bit of edge or class to your outfit depending on the style of boots you wear. For example, sock booties can give a chic and dressed up appearance, where as combat boots can be more casual. If you want to wear jeans with ankle boots, consider the occasion and how formal or casual you want to look.
Conclusion: How To Style Mom Jeans
In conclusion, how to style mom jeans is all about the fit and how you pair them with other items in your closet. With the right fit and the right accessories, mom jeans can be a stylish and versatile addition to your wardrobe. By following the fashion tips and tricks discussed in this blog, you can make mom jeans look fashionable and modern. Don't be afraid to experiment with different tops, jackets.